The principal aim of The Arts Society Heritage Volunteers is to aid the preservation of our national artistic heritage for the benefit of the public.  The Volunteers give their time and skills freely, providing an invaluable resource in the core areas of 'Collection Care' and 'Knowledge and Access'.  The role of volunteers complements, but does not replace, that of paid staff.  Collections need to be cared for and sometimes Curators don't have the time to carry out necessary routine tasks such as dusting, cleaning, packing etc.  They may be mundane or unglamorous but they are vital to ensuring the long-term preservation of our heritage and this in itself is rewarding. 
Any members of The Arts Society Arun wishing to join the group should contact Pat Willcox using the Contact Us form.
Unfortunately, all volunteering has been stopped because of the Covid 19 pandemic.
---
Our Heritage Volunteers have been working at the castle for many years under the direction of the Arundel Castle Archivist. In recent years the teams of 4 have cleaned the books in the library, identifying volumes needing attention or repair on the way. Work in the archive rooms has including the cleaning of seals going back hundreds of years, as well as the cleaning and repacking of Estates correspondence up to the 20th Century. A new project relating to the Deed Archive is currently under way.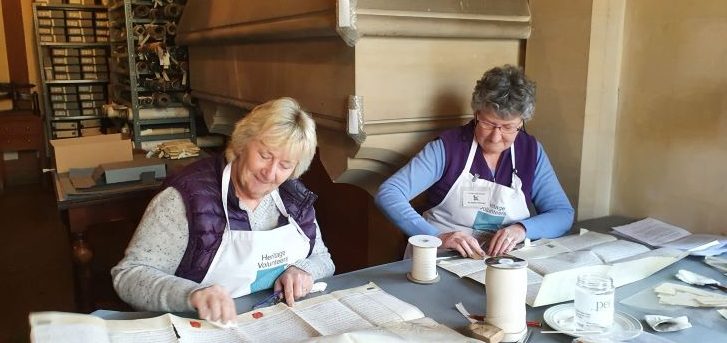 ---
Worthing Museum holds one of the largest museum costume collections in the country. A team of 3 Arun members were working in the costume department making covers for the collection. They then moved on to making padded Tyvek covers and calico infills, repacking and cataloguing the 800 pairs of shoes and boots in the shoe collection – one pair dating back to 1740. This enabled the shoes to be put on display with the minimum of handling. The project came to a successful conclusion at the beginning of 2020.